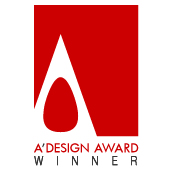 <A' DESIGN AWARD 受賞のお知らせ>
弊社デザイン部門の河上友信空間設計事務所が設計しました「SEN&GALLERY」および「cake&tea "KASHI KASHI"」が、イタリアの国際デザイン賞『A' DESIGN AWARD』にてWINNERを受賞いたしました。
「A' DESIGN AWARD」は、イタリア・ミラノに本部がある、世界最大で最も多くの人々が注目する国際的デザインコンペティションです。
国際的にも著名な学者、デザイナー、ジャーナリスト等、80名以上の国際審査員による厳しい審査をくぐり抜けて、"Interior and Exhibition Design" カテゴリーでそれぞれ Bronze Award Winner を受賞する運びとなりました。
先日、イタリア・コモ湖の畔にある貴族の為の別荘 "Villa Olmo" にて授賞式が開催されました。
スイスの建築家シモーネ・カントーニによる新古典主義様式で建築されたヴィラは、湖畔の庭園と共に普段は立ち入ることが出来ず、この日の為だけに特別に公開されるそうです。
この授賞式で、受賞者には「A' Design Award Prize」が与えられました。
受賞作品は、2017年6月6日(火曜日)~26日(月曜日)にEx-Chiesa di San Francescoで開催される「Designs of the year」展で展示されます。
Ex-Chiesa di San Francesco:Viale Lorenzo Spallino, 1, 22100, Como / Italy
◆ A' DESIGN AWARD:https://competition.adesignaward.com
Dear All,
We are pleased to announce that "Kashi Kashi" & "SEN&GALLERY" have been awarded the Bronze A' Design Award in Interior Space and Exhibition Design Category by the International Design Academy, the grand jury panel of the A' Design Award & Competition which consists of internationally influential press members, established designers, leading academics and prominent entrepreneurs.
The A' Design Awards are the World's most influential and largest design awards, presented each year in Italy. It is a great honour for us to receive this prestigious award and we would like to thank all of our friends and partners for their continued support and help along the way.
The exhibition of winning designs will take place in Ex-Chiesa di San Francesco between the dates 6th of June (Tue), 2017 and 26th of June (Mon), 2017. Ex-Chiesa di San Francesco is located at Viale Lorenzo Spallino, 1, 22100, Como / Italy
The A' Design Award gives recognition to the excellence of design on the international stage. You can visit the designmag.org to see all winners or check out our profile.
Kashi Kashi : https://competition.adesignaward.com/design.php?ID=56776
SEN&GALLERY : https://competition.adesignaward.com/design.php?ID=56778

Best Regards,
Tomonobu Kawakami | TomonobuKawakami SpaceDesigns